Gunn Concerts: Designed to Meet the Needs of Your Community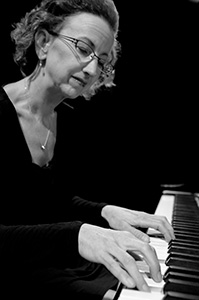 Be engaged, entertained, and enlightened with music that spans over 400 years. Whether in a formal recital setting or an outreach program to under-served populations, Donna passionately extends her talent to diverse audiences and lovers of music. Each compelling program interlaces music and scholarship in an accessible and unforgettable way.
The Benevolent Beethoven
We know the Beethoven who created serious and angry music, but what about the Beethoven whose music reflects his joy, humor, and kind heart? Anecdotes and solo piano pieces are artfully intermingled to bring you closer to his heart and soul, to more fully know and appreciate the man and his music.
Discoveries from the Fortepiano
(qualifies for subsidized funding with Humanities NE**)
Travel back to the mid-eighteenth century to hear about the profound impact the "new" piano had on great composers such as Beethoven, Haydn, and Mozart. References from Donna's book,
Discoveries from the Fortepiano
(Oxford U. Press, 2015), are explained to provide suggestions for a deep and rich listening experience as she performs works by these composers.
Papa Haydn and the Sonata
Follow the development of the sonata through the life experiences of great composer-musician Franz Joseph Haydn. Find the sonata in his personal study at the Esterhazy Summer Palace in Hungary, or at its debut on the concert stage in London. Donna brings it all together with photos from her experiences abroad, historical primary-source commentary, and artful performances of selected Haydn sonatas.
Honoring our Veterans
Each branch of the service is recognized, the history behind their official song explored, and the tune sung by all! Piano arrangements are interspersed throughout to bring the program to a complete whole.
Patriotic Panoramas with Panache (qualifies for subsidized funding with Humanities NE for not-for-profits**)
Step behind the camera for a snapshot of our country's history through the lens of the music that paints great American moments in time. Float in the harbor with Frances Scott Key as you watch the bombing of Fort McHenry, experience Julia Ward Howe's angst on the eve of a Civil War battle or climb to the top of Pike's Peak with Katherine Lee Bates. Sing the songs as first envisioned. Donna segues seamlessly and artfully into solo piano arrangements based on each patriotic tune.
Music on the Trail (qualifies for subsidized funding with Humanities NE for not-for-profits**)
Venture from the mysterious bayou of the Deep South, experience the vastness of the open prairie, feel the energy from atop Scotts Bluff National Monument, and triumph in the accomplishment of fording rivers and mountains to the Promised Land as you cross the Oregon Trail. Participate in the interactive experience with music inspired from American folk songs and brought to life by Donna's performances.
Cowboys & their Horses
Join an 1840's cattle drive across America's Great Plains. Hear of the struggles, joys, hardships, and shenanigans as told through the words of "Pinnacle Jake" and "Teddy Blue." See their world through beautiful artwork from UNL's Great Plains Art Museum holdings. Feel it all come together as you sing some cowboy favorites and hear Donna perform solo piano music by great American composers.
Love is in the Air
What's the inside scoop about the secret love of Brahms, Beethoven, and Chopin? Or the simple love heard in the music of J. S. Bach? Hear interesting tidbits about great composers through time and their love connections. Then settle in to hear works representative of their love as performed by Donna.
Christmas Carol Connections
Gather together for one part Christmas carol sing-along, one part historical connections (how each carol came about or interesting tidbits related to the carol), followed one part beautiful carol piano arrangements.
Desire a tailor-made program for your concert series? Contact Donna to discuss your needs.
**Are you a not-for-profit community?**
Book a matinee program for $50 by submitting a 1-page online application to
Humanities NE
.  Full program funding is available through the
Nebraska Arts Council
and
Mid-America Arts Alliance
To hear complete works recorded live by Donna please visit her YouTube Channel by clicking the link below
Donna's YouTube Channel